We've searched the web high and low to find the best articles online for Do It Yourself fixes of Zoom Creep.  Here is a summary of the top 10 articles which we felt were the most interesting DIY solutions for fixing Zoom Creep.
Author:  IMATRYIN @ http://www.dyxum.com/
Article Excerpt from: http://www.dyxum.com/dforum/how-to-fix-zoom-creep-minolta-70210-3545_topic59459.html
Topic: How to fix Zoom Creep. Minolta 70-210 3.5-4.5
Posted: 22 February 2010 at 19:29
I have a Minolta 70-210 f3.5-4.5 and I was asked if it had zoom creep. I hadn't tested this lens for that as I never really used this lens for anything other than shooting in an horizontal position. So When I was asked whether or not it had it, I found out it did and immediately went to work on how to repair it. I found a site on a Nikon lens where they had used a rubber wrist band to put over the seem between the zoom ring and the lens barrel. I wanted something that I could do without having to find a rubber band that would work properly. So here is what I did: Near the rear of the lens where the zoom ring and the barrel come together ther is a smal gap. I took some thread, I'm sure embroidery floss, dental floss (Probably non-waxed), and a variety of other very small diameter strings would work just fine too, and wrapped a couple turns of it into that gap and tied it into a knot. This string being in that gap provides just enough resistance to hold the lens in place while allowing the zoom ring to still be turned with little effort. It is also very hidden and hardly shows at all. This has stopped the lens from creeping at all and took all of 30 seconds to perform. I'm sure this fix could be applied to many different lenses.
Here are a couple pictures.
Before:
During:
…and After:
————————————————————————-
Author:  Reg R Coulter @ http://www.pbase.com/
Article Excerpt from:  http://www.pbase.com/regcoulterphotography/nikon_18200_fix
Nikon 18-200 Zoom Creep fix
This simple O-ring trick takes care of the zoom creep this lens exhibits.
————————————————————————-
Author:  sevlow @ http://forums.dpreview.com/
Article Excerpt from:  http://forums.dpreview.com/forums/read.asp?forum=1039&message=27636341
Re: Curing 18-200mm VR zoom creep
Forum
Nikon D300 – D100
Subject
Re: Curing 18-200mm VR zoom creep  [SIMILAR]
Posted by
sevlow
Date/Time
9:44:10 AM, Sunday, April 20, 2008 (GMT)

Link didn't work, Try this..

—

The labourer works with his hands.. The craftsman works with his hands and his head.. The artist works with his hands, his head, and his heart..
————————————————————————-
Author:  SoCalBob @ http://www.flickr.com/
Article Excerpt from:  http://www.flickr.com/groups/d80/discuss/72157604323945497/
Zoom Creep Fix for Nikon 18-200 VR
I wanted to post this here because I know many group members use the very popular Nikon 18-200 VR lens in conjunction with their D80s. One enduring complaint about this lens, mentioned repeatedly on Flickr and elsewhere since it first came out, is the very annoying "zoom creep" that afflicts the vast majority of samples of this lens.

Most of us who love the versatility of the lens learn to live with the annoying creep. But the creep had really progressed beyond simply "annoying" with my lens, which I've used for more than two years. So today I finally did something about it and managed to solve the problem.

NOTE: This zoom creep fix is neither new, nor something I just invented. It's been around for awhile, usually employing gaffers tape.

Since gaffers tape isn't something you can just walk into any store and buy, although B&H does sell it –www.bhphotovideo.com/c/product/353361-REG/Permacel__Pro_G…, I took a trip to Home Depot and found a 1″x30′ roll of 17 mil Gorilla Tape for $2.79 in their masking tape section with the paint supplies.

Gorilla Tape is cloth-based, relatively thick at 17 mil, with an adhesive that sticks to anything, tolerates temperature extremes well, and stays in place.

Back home, as I recalled reading descriptions of on other websites, I applied a 1×1-1/8″ strip of the Gorilla Tape to the bottom of the larger (nearest the camera) barrel of my fully extended lens as shown here:


Here's a closeup of the application:

Apply the 1″ wide side of the strip of tape as close to the zoom ring as possible, or even a bit beneath it, and cut it to a length of 1-1/8″ to extend out along the barrel as shown.

VOILA, CREEP CURED !!!

My zoom ring resistance is now a bit stiff, especially in the 70-135mm range, but that's certainly preferable to the loosey-goosey, free-turning zoom with the awful creep that I had before.
Originally posted at 8:10PM, 30 March 2008 PDT ( permalink )
SoCalBob edited this topic 31 months ago.
————————————————————————-
Author:  iamjenxi @ http://iamjenxi.com/
Article Excerpt from:  http://iamjenxi.com/2010/02/how-to-stop-zoom-creep/
How to stop zoom creep
When I bought the Nikon 18-200mm VRII lens, I knew of the zoom creep problem inherent with the design of the lens.
What happens is, when the zoom gears become loose, the lens will zoom in from wide angle when pointed downwards and zoom out from telephoto when pointed upwards. This is due to the effect of gravity pulling on the heavy glass. If you attach the lens hood, it is even more likely to happen.
I prayed hard that my lens would not suffer from the issue since there were reports by several individuals that they have not experienced such problem despite using the lens for years. As luck would have it, mine finally started to creep one day. And several days later, Nikon announced the version two of the lens. The newer version features a zoom lock which would eliminate the problem of the zoom creep.
Image source: KenRockwell.com
Some people rejoiced and sold the older version that crept and bought the newer version as soon as it came out. They made a loss as the price of the older version dropped when the new one was launched. But they no longer had to fight the creep.
I was unwilling to change my lens merely two months after I bought it. It is the first lens I bought and it was special. And aside from the zoom creep, I had no other complains about it. It made no sense to switch to the new one.
Then, I stumbled on a solution to solve the problem. A rubber band. Simple as that.
I bought the rubber band for SGD 1. Rather than get a plain design, I chose something that suited my style.
Slip in over the lens and place it on the zoom ring.
There you go. It doesn't creep any more. The friction from the rubber band holds it in place.
I spent only SGD 1 instead of the extra SGD 300 I would have to fork out if I sold my lens and bought the new version.
————————————————————————–
Author:  Julian Loke @ http://eosdoc.com/
Article Excerpt from:  http://eosdoc.com/manuals/?q=ZoomCreep
---
Click on this link for a fix for Canon EF Zoom Lens Creep : http://eosdoc.com/manuals/?q=ZoomCreep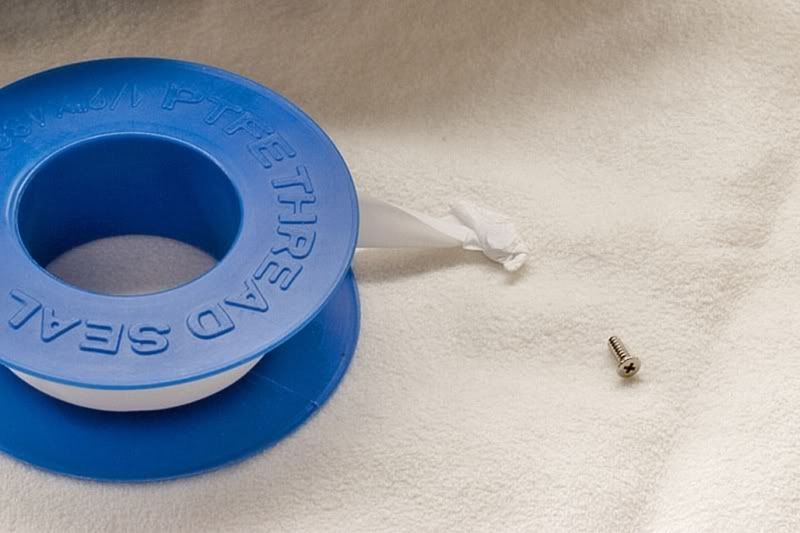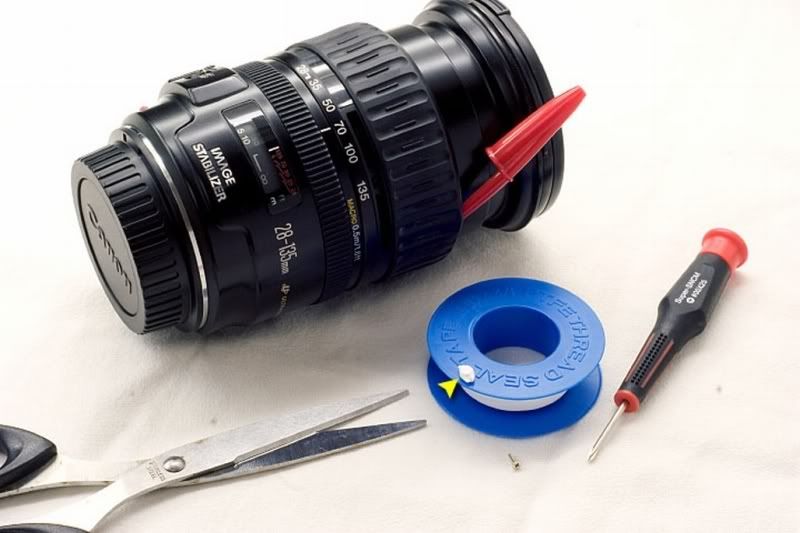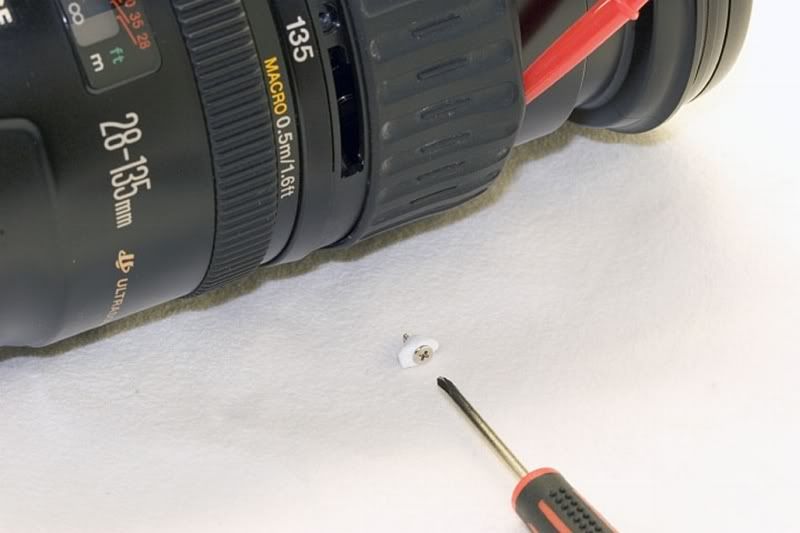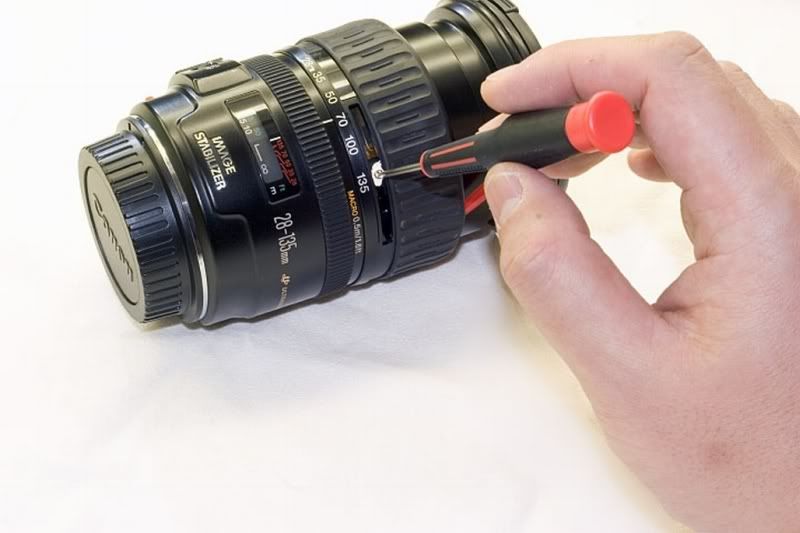 ————————————————————————–
Author:  tkcom @ http://www.instructables.com/
Article Excerpt from:  http://www.instructables.com/id/Lens-creep-fix-for-Canon-EF-28-135mm-f35-56-IS-/
Lens creep fix for Canon EF 28-135mm f/3.5-5.6 IS USM
For lens with wide zoom range, it's not unusual that lens creep will happen sometime in its life. This phenomenon occurs as zoom ring loses friction and cannot hold the weight of the large front element. Canon EF 28-135mm f/3.5-5.6 IS USM is one of those lenses that have this problem.
step 1Material: elastic hair band
All you need is an elastic hair band. The type required for this fix is the 
flat
one as regular rubber band is too thick. The one I use is 
Goody black elastics
. For aesthetic, I'd suggest using black one as it blends in with the lens.
step 2Get the elastic on the lens
Slip the elastic on the lens. Make sure that the whole elastic rest flat around the lens between focus ring and zoom ring.
step 3Slip the elastic in the crack
Slip a part of the elastic in the gap of the zoom ring. I'd suggest not the whole elastic band as it will be easier in case of removal. This is why regular rubber band won't work as it will be too thick to slip into the crack. If you happened to slip the whole elastic band, you may have to use tweezers to get it out.
step 4Voila!
Lens no longer creep! At maximum zoom length pointing up the lens no longer collapse on its own weight. The result may vary depending on the condition of the lens.
Ken –, Nov 16, 2006; 03:08 a.m.
Picture of the wide rubberband work around. Hope this helps.
Zoom Creep Work Around
————————————————————————–
Author:  Jim Dennewill @ http://digitalphotographyblogs.com/
Article Excerpt from:  http://digitalphotographyblogs.com/2008/07/22/lens-creep-what-it-is-and-one-way-to-stop-it/
Lens creep-what it is and one way to stop it
By Jim Dennewill | Posted on July 22, 2008
Because you might have missed his great posts the first time around, we're republishing some of Jim's greatest hits here on Tuesday and Thursdays.
Barrie was nice enough to send us an inquiry about a comment we'd made regarding using rubber-bands to stop lens creep.
In order to illustrate (photographically) what I had mentioned as well as explain what lens-creep is for those who might not know what it is or have yet to experience it, I decided to write up an explanation here.
When I first got my Nikon 18-200mm VR zoom lens, which is my "all around travel light" lens (and which I love by the way), I noticed that, whenever I had my D200 camera hanging around my neck, with this lens pointed down, it would tend to slowly zoom all the way out. It could be disconcerting to be somewhere, having just taken a photo at 18mm, then letting the camera hang vertically, I'd bring it back up, expecting it to be at 18mm and all of a sudden there I was at 200mm, filling the frame with somebody's nose.
Now this isn't the first time I'd run into the problem, but the last time it'd happened to me was back in the day, when all I could afford was a used Soligor lens or something similarly well used and low priced (like $50.00). Something like the used Soligor (or Hanimex) had been well-used and put away wet, so some "fitment" problems were to be expected (as well as cobwebs inside the lens), but, on my nice new Nikon, it was a bit of a surprise.
I have also experienced this with my Tamron 18-250mm lens and have read of other people having similar issues. I haven't found out, in my web-research, if this is particularly (but not exclusively) a problem with these "superzoom" lenses or just a problem with certain batches of these lenses as they're manufactured.
I also haven't talked directly to Nikon Service to see if, maybe, this is something that can be simply "tightened up" and it'll fix it for life, or if this is the type of issue which would need to be addressed from time to time as a maintenance-issue, being more frequently required if the lens sees heavy use.
So, that in a nutshell, is what lens-creep is.
Now, how is one way to fix it?
Well, after discovering this problem on my Nikon, I was off once more to the low-priced yet informative web-research. I looked at discussion-boards, lens reviews, articles, rants etc. and the one common denominator for lens-creep was the rubber-band.
Touted as a miracle-cure for all this lens-creep related, and mentioned by some of the best in the photo business, I decided to give it a try.
The first issue was "Where do I get a decent, wide rubber-band?"
Off I was to Office-Depot, Office MAX, Home Depot, JoAnn's Fabrics, Target, and many other sources for a nice wide rubber-band. Much to my chagrin, the widest rubber-band I could find was about 3/16″ wide ( less than .200 inch). Plus, these were only available in an "assortment pack" meaning you got 3 of the "wide" bands and a bunch of the very skinny "normal" bands. This, plus the fact that they seemed to self-destruct told me I needed to get "webbing" again.
The intent (as seen in the photos) is to provide some tension between the "zoom ring" and a stationary part of the lens, while ensuring that the focus-ring is entirely free to move to avoid stressing the focusing motors (this also assumes the zoom-lens you're trying to corral is a "manual zoom" and not a motorized one).
I finally came across a supplier who had a nice variety of rubber-band widths and diameters.
The site I found is called "Dykema Rubber Band" (click here) and "with over 100-years of Quality" I figured they'd have some decent stuff.
I ordered a box of #84 and #94 rubber-bands. The 84′s are: 3 1/2″ X 1/2″ X 1/32″ and come 210 to a pound and the 94′s are: 3 1/2″ X 3/4″ X 1/32″ and come 140 to a pound.
For 2 one-pound boxes, shipping was less than $5.50 and they arrived swiftly to my house.
The quality of these rubber-bands was everything I'd hoped for (they didn't snap apart in my hand like so many store-bought ones do) and they fit both my Nikon 18-200mm VR lens barrel perfectly as well as my Tamron 18-250mm zoom.
They overlapped the zoom-ring with the stationary part of my lens barrel with enough friction to stop the lens-creep cold, but were still compliant enough to allow fast, easy zooming when I needed to.
As bonus, they also fit around the lens of my Nikon SB-800 Speedlights, giving me a nice, tractive surface to hold my home-made accessories like cardboard snoots and gobos. Sweet!
So, what you'll want to do is:
1). figure out what diameter you need to fit your lens snugly (without binding anything)
2). Figure out what width you need (again as wide as you can without binding any operations, but still wide enough so it'll work if it moves around a bit from where you'd like it).
3). Got to http://www.dykemarubberband.com/products.php and order up a box of these bands.
4). e-mail us and let us know how this worked for you.
Just a note, I don't have any association with Dykema Rubber Bands (wish I did), but that's where I'll be heading if I need more, or different styles of rubber bands.
Thanks for your inquiry, Barrie, hope this helps!
(Check out Barrie's blog: here )
About Jim Dennewill
A Southern California native, Jim Dennewell has had a fascination with photography since elementary school. Weaned on his family's old Kodak Brownie cameras (you know, the ones where everything moves backwards in the viewfinder), Jim has fostered his love for the art and tech of photography over the years. Originally known here as "Slightly Out of Focus," Jim is one of our favorite authors.
————————————————————————–
Author: fuadi_z @ http://www.flickr.com/
Article Excerpt from:  http://www.flickr.com/groups/365610@N21/discuss/72157604187646415/
I got this lens for about 30 $ at local auction. But heck the focus ring is so loose that it sounds like a hammer when I turn in up and down.   A quick search on the net and try to fix it. I want to share them with you..
Here's what I used:

about 4 cm of the tape…
and it works!!!! no more free falling….
And took some photos with it. sometimes I even think that it is sharper that this lens

later I add another stripe to add a little more friction..
any comments?
Visit our Online Store to find your lens.